Postcode level taxation statistics data for the 2017–18 income year is available on NationalMapExternal Link.
NationalMap provides a platform for the visualisation and exploration of spatial data. The image below is an example of the median taxable income or loss map.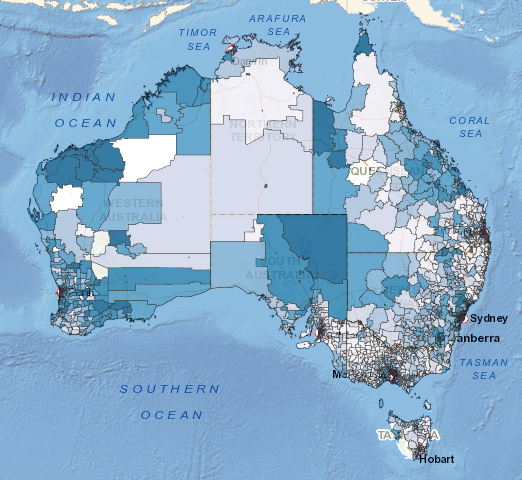 © Commonwealth of Australia (Geoscience Australia) 2019. This product is released under the Creative Commons Attribution 4.0 International Licence.
http://creativecommons.org/licenses/by/4.0/legalcode

External Link
For the 2017–18 income year you can use the tool to map the average and median values of the following items:
taxable income or loss
salary and wages
net rent
total income or loss
total deductions
total business income
total business expenses
net tax
total super member accounts balance.
You can also compare across postcode the proportion of individuals claiming some of these items.
You can zoom in and click on a postcode area to show all statistics for that area. Also available on NationalMap is similar data for the 2011–12 to 2016–17 income years.
See also  
See also