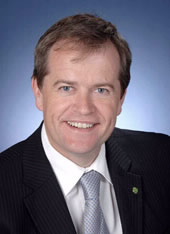 I want to congratulate the Australian Taxation Office and all its employees, past and present who have made it a world-leading organisation.
Over the past 100 years, the ATO has succeeded as a fair and trusted administrator of our tax and superannuation systems. The work of the ATO has brought great benefits to our country and it is valued by both Australia's citizens and their government.
This book outlines the way our tax administration has evolved, how it was shaped and moulded by the events of the times and the changing needs and expectations of Australians. It shows how the ATO developed to meet the challenges and opportunities of the times, both national and global.
The history provides a rare insight into the working life of a dedicated group of Australian public servants.
I commend this brief history to anyone seeking to understand the human effort of our taxation system, and thank ATO staff, past and present, for their efforts for all Australians.
The Hon Bill Shorten MP
Assistant Treasurer
Minister for Financial Services and Superannuation