We prefer to gather your information by simply requesting it from you.
Overview
Using a cooperative approach helps us to streamline the information-gathering process. By working with you in this way, we can build good working relationships and minimise any cost and disruption. In most cases, we find the needed information can be gathered in this manner without having to use formal powers.
If we cannot obtain the information this way, we may use our notice and access powers. In some cases, we may also use these powers at the outset – for example, in cases involving tax avoidance schemes, or where you request us to take a formal approach. Our formal powers fall into two broad categories: notice powers (including notices to attend an interview) and access powers.
Information gathering explained
Australian tax and superannuation laws require you to keep records as evidence to support your claims. These records include documents that evidence an intention, election, choice, estimate, determination or calculation. For these purposes, documents include computer files and other electronic information.
Effective information gathering is important to the quality of our compliance activity outcomes. We plan our information-gathering activities to satisfy evidentiary requirements. Planning also helps us to manage our compliance activities, ensures good communication and promotes the timely completion of those activities.
The situations when a formal approach to information gathering may be used include:
risk management  

risk to our revenue collection
litigation risk – to establish probative value of evidence
high-risk issues
international issues and complex structures
behavioural issues.

 
targeted collection based on hypotheses to  

manage the level and volume of evidence required
get to the full facts quickly
be in the same factual position as you.

 
to ensure our resources are used efficiently when gathering information.
Our information gathering cycle
In our information gathering cycle we decide what information we need to make evidence-based decisions.
We decide whether to gather the information using a cooperative approach, or alternatively using our formal powers.
If we use a cooperative approach we continually assess if this is satisfactory, and if necessary will change to a formal approach.
After we've gathered the information we determine if it is sufficient, or if more information is needed to support our decisions. If it is sufficient, our information gathering is complete. If not, we return to the client with our request for additional information. This process is shown in figure 1 below.
Figure 1 Our information-gathering cycle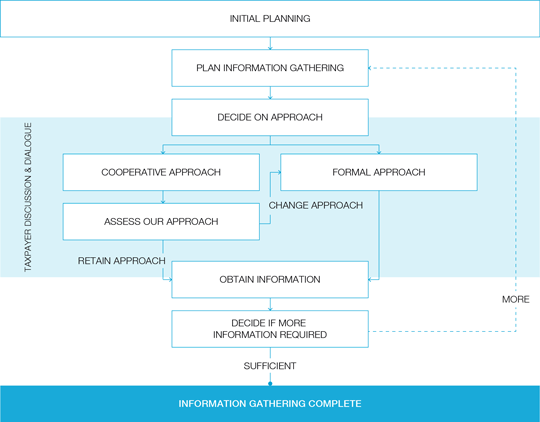 For more information about record keeping, see Record keeping for business and Records you need to keep for individuals.
For more about penalties imposed for failure to keep or retain records, refer to PS LA 2005/2 - Penalty for failure to keep or retain records.
Understanding your circumstances
Our information gathering helps us to understand your circumstances and activities.
If you own a business, we seek to develop our understanding of it by obtaining information, including:
your business operations
the business structure used and its ownership
the influences on your business
the industry it operates in
the tax aspects of the business.
The information we need about you or your business varies. The level of understanding we require will differ according to the type of compliance activity we undertake and its stage of completion. We require a broad understanding for initial case selection or risk analysis and a greater level of understanding if you are subject to a risk review or audit.
The amount of information we need to complete a compliance activity will vary from case to case, depending on the complexity. To resolve issues and establish our position, we should have the same factual understanding as you or your decision makers.
We plan our timeframes and information-gathering approaches when conducting a risk review or audit to get the facts and obtain relevant supporting evidence. We aim to form our view and advise you of that position as soon as we can.
Risk reviews
We may seek information from you as part of a risk review. We may not be able to request specific information when we start as we may not know the exact tax issues in question.
The information needed for a risk review may cover a wide range of financial records, including a trial balance and supporting working papers. In some cases, we may need access to other records to properly assess the tax risk.
While conducting a risk review, we may ask for detailed information to help us gain a deeper understanding of your activities and determine whether a material tax risk exists. Once specific tax issues have been identified, we can then issue more targeted information requests.
Generally, we gather information to identify a risk or determine if no further action is required.
Audits
Audits are conducted to deal with identified risks. When compared to a risk review, an audit will involve more detailed verification of the facts to make sustainable decisions at law based on the evidence we have.
Audits are generally more comprehensive than risk reviews and involve an intensive examination. As such, during an audit, we may require a detailed level of information – for example, written contracts used in business dealings.
When collecting information for an audit, we will generally have more contact with you and spend time at your premises to examine documents, record your processes and discuss issues with key personnel. We need to gather sufficient information to either establish our view and support that position or determine that no further action is required.
Private rulings and objections
We generally use a cooperative approach to seek information in relation to private rulings requests.
We are likely to use our formal powers when seeking information to determine objections. This is often necessary because of the timeframes we work with and the fact that information may often be required as evidence for litigation.
Using a cooperative approach
We are committed to making it cheaper for you to comply with the laws we administer by reducing workloads and the time and effort involved. When deciding on the best approach to gather information, we will consider if it is appropriate to use our notice or access powers, or whether it is possible and practical to obtain the information cooperatively by simply requesting it.
We commonly find that holders of information are willing to respond to our requests for information without a notice being sent. This can often lead to a resolution of matters, even in cases where there is a potential risk of litigation.
By working with you in this way we can build good working relationships, minimise the cost and disruption to each party and achieve an acceptable outcome by streamlining the information collection process.
The following factors may be relevant to our decision to use a cooperative approach:
who has custody or control of the document, and whether they appear willing to respond to a request or if they are subject to confidentiality obligations (such as a bank)
if it is likely to reduce compliance costs
if the time needed to issue a notice, and time allowed to comply with it, is likely to be less than if a cooperative approach were used.
The use of a cooperative approach does not imply that a less professional or less organised approach will be taken by us.
We expect you to exercise the same level of diligence and endeavour in meeting our requests for information as you would if we used our notice or access powers. Administrative penalties for false or misleading statements also apply to information given to us voluntarily.
Mutual expectations
You can expect us to act in a professional, courteous and respectful manner and demonstrate integrity, fairness and impartiality in the conduct of our compliance activity.
When we use a cooperative approach, we will generally advise you that the information is not being requested under our notice or access powers and we are relying on your cooperation to provide the information or documents.
Responding to our requests in a narrow way is likely to delay and frustrate the completion of our compliance activity. If we believe you are behaving in this manner, we will usually discuss our concerns with you to establish the reasons for it. We may use our formal powers if this conduct persists.
What you can expect from us
We will generally:
explain why we are requesting the information
give you an opportunity to discuss the scope, appropriateness and relevance of the information request
monitor our information requests to ensure they are answered on time
take action if our requests are not complied with fully
plan our information-gathering approach to meet our requirements and minimise disruption to you or your business to the extent possible
have ongoing and constructive dialogue with you so that our information requests are clear, unambiguous and relate to the issues that concern us
work with you to identify alternative documents where you have difficulties in providing the documents we have asked for
ask you for the information first and only approach third parties if we need to
manage the process according to agreed timeframes, protocols, contact and escalation points
ensure we have sufficient evidence to make an informed decision
give you reasons for our key decisions
engage technical experts and information-gathering specialists at the earliest opportunity when needed
provide you with adequate time to respond to our information requests
advise you when we expect to reply to your response.
What we expect from you
We expect you to cooperate with us by:
giving us complete information within agreed timeframes to ensure the efficient and timely progress of our compliance activities
engaging in constructive dialogue with us
providing access to your key decision makers and senior personnel, if required
working with us to ensure that our compliance activity proceeds in an efficient and timely manner
assisting us in developing plans, milestones and timeframes
advising us as early as possible of any delays in providing information, and by taking all reasonable steps to address these.
We also expect you to give assurances that:
your information searches have been carried out carefully and completely
you have provided full details about what information you have, or when that information will be available
the information we have requested will be given to us by the due date, or progressively, according to an arrangement with us
your information will be given to us in user-friendly formats that allows us to fully analyse it
you will advise us if you encounter difficulties in meeting our timeframes as soon as possible and provide us with your plan of action to manage any delays.
Our discussions with you
We aim to have open and honest discussions with you to keep your compliance activity progressing according to plan. We will generally discuss with you the information we need and the risks identified, together with any information-gathering concerns we have.
This cooperative approach allows both parties to raise issues in a timely manner. Ongoing and open discussions about our information requirements help us to:
better understand your circumstances
keep the process as simple as possible and avoid unnecessary escalation.
During these discussions, we will explain your rights and obligations and our approach to information gathering, including escalation processes. In addition, we may discuss:
our risk hypothesis and how it determines the information being sought
the nature of your information systems and record keeping
who has custody or control of the records and where they are kept
the circumstances that would cause us to use a formal approach.
We may also reach a common understanding about:
the level of cooperation we expect and the circumstances where we believe this cooperation is not being met
protocols for the supply of information
timeframes for information gathering and the consequences of not meeting them
how documents covered by legal professional privilege, the accountants' concession or corporate board advice concession will be handled
arrangements to interview staff.
Where key personnel are available for interview and are willing to provide full and frank responses to our questions, we will generally not issue a formal notice requiring them to attend and give evidence.
We may also ask for details of:
what information is available, including information held in an electronic format
key personnel with knowledge of the risks we have identified
authorised company contacts, including the contact person for information requests
how you prefer to give the information.
Accountable conversations
Any information you provide must be accurate and complete.
We will generally make a record of our conversations (including meetings and interviews) and may:
provide you with a written summary of the interview containing key issues if you ask for one
request you to sign and date a record of the interview
record the interview with your consent, in which case you will be given a copy of the recording – although you are not obliged to sign the summary or record.
These conversations ensure that our processes are accurate and complete, and reduce the need for more formal processes.
You are accountable for information you give us that is false or misleading. Administrative penalties may apply if you make false or misleading statements in the course of any interview with our officers.
We operate under corporate guidelines, processes and principles. Our key corporate documents include:
Managing our information needs
Planning how we gather information is important for the timely and efficient completion of our compliance activities.
When gathering information, we will generally:
use a risk hypothesis to frame our requests
plan our evidentiary requirements around the facts and evidence we require
revise our information requirements if our risk hypothesis changes
use various methods to obtain, classify, store and analyse the evidence
establish whether the information we need is already publicly available
consider the nature of your business, your record keeping and who is likely to be in control or have custody of the records.
When managing our information needs, we will generally discuss and seek your agreement on the process we use. To help reduce delays, we will usually confirm any agreed processes in writing.
Internal and external expertise
The diversity of industries and the types of entities used in business bring a wide range of tax issues to our attention. These issues range from simple to complex, and cover many areas of tax law.
Although our officers generally have a sound understanding of the laws relevant to information gathering for their case work, they are able to get assistance from advisers for more complex cases.
The provision of general legal advice on issues relating to access and information gathering resides with our General Counsel. Other advisers include officers in our various technical areas and networks. When required, our officers will seek early engagement with an adviser to assist in identifying the information required and how to gather it effectively.
To help ensure our formal powers are used lawfully and appropriately, our officers may engage these advisers at any time and may consult with them before they start to gather information. Our officers will generally consult a General Counsel adviser before using our formal powers in cases of access without notice, complex challenges to legal professional privilege claims and the limited number of cases where we may need to look at a document that may be privileged.
At times, we may also seek expert advice from external subject or industry specialists. In addition, we would consider engaging external counsel as early as possible in situations where:
the matter is clearly significant or complex
there is uncertainty relating to our view of the law
there have been difficulties obtaining information in the past
we are having problems gathering information in an ongoing matter.
Figure 2 Our collective capability

Moving to a formal approach
During the course of information gathering, we may decide to move to a formal approach, for example, where:
the information we have been given is not complete and accurate
escalation to our senior officers has not resolved an issue
there has been a lack of cooperation
you have requested a formal approach
we require information from third parties and the information is subject to confidentiality arrangements.
In some cases, we may decide to use our formal powers at the outset. In most cases, we will discuss our intention to do this, and the reasons, with you. This discussion is intended to clearly explain why the use of formal powers is considered necessary, and give you the opportunity to raise any issues of concern.